About me:
I am very passionate about music and singing and I couldn't possibly imagine my life without it. I have been working in the music industry since 2001. I am a singer, vocal coach and songwriter. I am also a teacher of The Master Voice Coaching Course aimed at experienced singers who want to become vocal coaches. (Click here for more info on the course)
I have been singing since I was a small child; I wrote my first song with vocals and a few chords that I'd taught myself on the guitar at the age of 9. It was a love affair with music from the very start; it was what I wanted to do for life. When I was 15, I began doing session vocals at various studios and at the age of 20 I started gigging and performing professionally as a full-time job
In 2006 I set up a successful Vocal Coaching business and music agency, booking acts as well as voice-coaching them and recording demos for them in my studio.
In 2012 I expanded the music business and set up a large building with 3 recording studios and a dance studio, which was featured on TV; I worked with all types of singers, from those just starting out, to well-known names. It was a very busy, crazy, but really fun time.
In 2017 I sold the business and set up a private studio to be more closely involved with my vocal-coaching clients and to focus on my other main passion: song-writing. I have written many original songs that are currently being pitched to artists, labels and agencies for TV and film use. Both song-writing and vocal coaching is the heart of my life and work.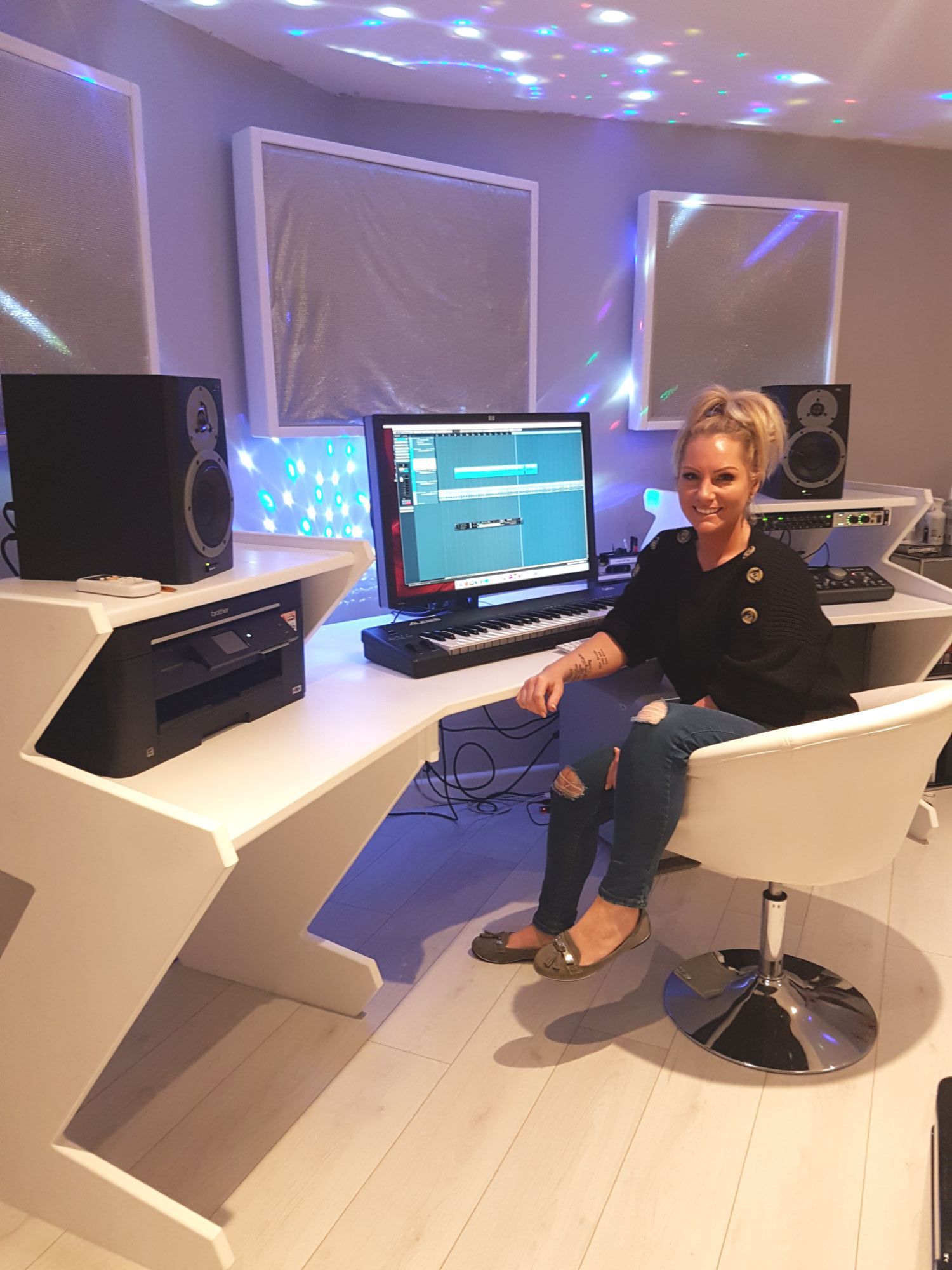 Why did I become a Vocal Coach?
When I first started performing at gigs, no-one had ever taught me how to sing properly, with the right techniques, or how to develop the full potential of my voice. I knew that it was a good voice and on stage, it was 'good enough' for a time. Gradually, after singing 3-hour gigs five days a week, I began to notice some very significant issues. I continued performing, but soon enough I barely had any voice left; and so I began the long, frustrating search for a coach who was really knowledgeable in the art and science of the voice, its mechanisms and techniques, its healthy maintenance.
When I finally found the right mentor I committed myself fully and I followed every sound piece of advice that was given. The truth is, I never knew how much there was to learn about the voice and how to use it properly as a singer! By the age of 22, my voice was the best it had ever been: I was in control, my singing was open, effortless and my range became more and more extensive. This changed my life. I was hooked. Now I wanted to help other singers find their best singing voice; I knew from my experience in the industry that many singers had vocal issues and ailments.
I trained hard with my mentor; I studied and learned everything I could about the voice and singing. I trained in all the various techniques that a Vocal Coach must have at his or her fingertips. Now, when I work with clients - whether they are complete beginners still discovering their voice, or professional singers needing help with vocal problems, or wanting to take themselves vocally to the next level – I am rewarded with absolute job satisfaction when we achieve these goals together… because I know how that feels. See client testimonials here